After your photos have been taken, please read all of the instructions below before going to the Ordering Website.
The link to the BONUS images will be sent in a separate email in 7-10 days after photo day.
CLICK HERE then enter your Event Name to proceed to the Ordering Website
CLICK HERE FOR COPYRIGHT RELEASE if you happen to need it.
Choose your Pose, Background, etc. then add it to your cart.
If you purchased a Pre-Payment Coupon Code please follow the instructions below. If you did not, please proceed to enter your payment information.
Pre-Payment Code Instructions
Once all of your items have been added to the cart, proceed to the checkout payment page. At the top of the page you will enter your coupon code in the "Gift/Discount Code" Box and then click "Apply Code"
After your purchase, you will also receive another email, in 7-10 days, with a link to all of your Bonus un-edited images (on the green background) that you will be able to download (Not a CD).
CLICK HERE TO WATCH A VIDEO ON HOW TO ORDER THE COLLAGE
Collage must be ordered from a computer.
For fastest delivery, make your selections online today!
1. Enter the first letter of your last name, click on the Continue button
2. Click on your name
3. Click on your image
4. Click "Background" to view different backgrounds
(Pick Image and Background then Click "Continue to Order Photos")
Choose Your Option then Click "Add to Cart"
Resize your image by clicking the "+" or "-" and Center by clicking the arrows.
(You must click the "+" at least once)
At this screen you can also add Text (Name, Year, etc.)
Please make sure that you size your image to match the background.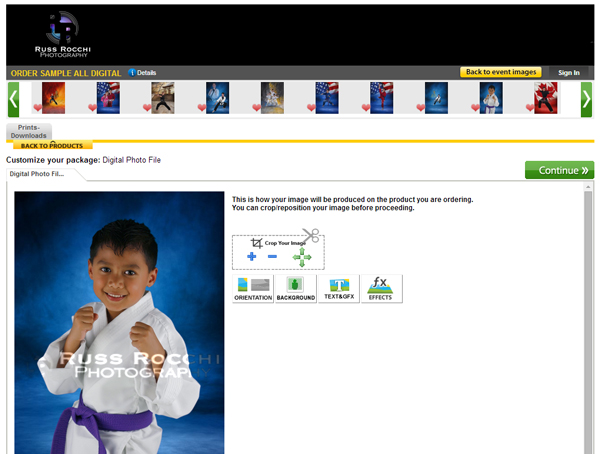 In addition, if anything else needs fixing, your area green belt or some of the background stand or the lights are in the shot, click on the "Enlarge" button under the image.
Please email the image number and a screenshot to service@rrphotoz.com BEFORE placing your order online, so the necessary adjustments can be made first.
Also, CLICK HERE FOR COPYRIGHT RELEASE if you happen to need it.
If you have any questions please let me know.
Thank you,
Russ Rocchi